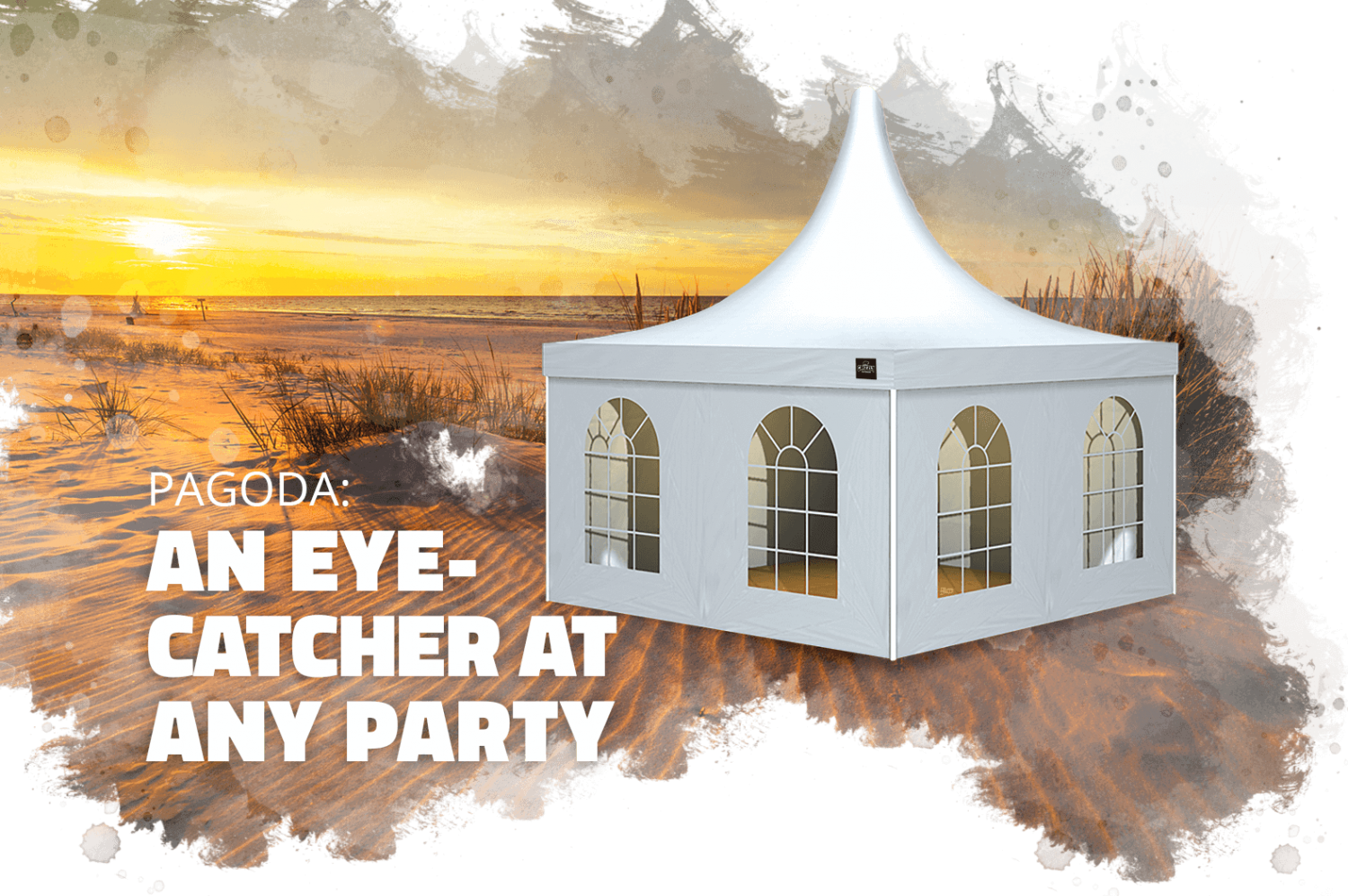 Grizzly Outdoor
Pagoda
The extremely robust pagoda tents is an eye-catcher at any event. Pagoda tents have been popular on the business events market for many years. With this tent, they will have an absolute eye-catcher that offers good value for money.
pagodetent
Sidepanel with arch window
Sidepanel closed
Sidepanel transparent
Sidepanel limited
Choose from the above mentioned sidepanels with no extra cost. The sidepanel with entrance is always supplied as standard.
easy to
connect
Thanks to the aluminium frame keder profile, the Pagoda is very easy to connect with sidepanel and raingutter.
Performance Indicators
Warranty on parts supply for...
Strong stable roof connection...
0
times stronger then cable connection
With Comparable Pagode the Grizzly is...
Ben je overtuigd?
Bezoek een van onze dealers
Factory warranty
This product comes with a 2 year manufacturer's warranty on the roof and frame (with the exception of professional use).
Technical specifications
Available sizes
300 x 300 x 380 cm (lxwxh) Entrance height 250 cm
400 x 400 x 450 cm (lxwxh) Entrance height 250 cm
500 x 500 x 540 cm (lxwxh) Entrance height 250 cm
600 x 600 x 570 cm (lxwxh) Entrance height 250 cm
Frame
Frame aluminium profile 65x65x3 mm 6061 / T6 Alu
Connecting elements made of galvanised steel
Strong base plates made of galvanised steel
Quick en easy assembly
Including base frame
Roof tarpaulin
Opaque 850 gr/m2
Mold and rot resistant
European UV and Flame retarding
Roof attached with double keder system
Side walls
Opaque 850 gr/m²
Mold and rot resistant
European UV and Flame retarding
Easy Kede system attachment
Other
Fire retardant certified according to all European standards
Fast attachment without tools
Tents are easy to connect
Construction calculation in accordance with NEN-EN 13782 with wind load 80 km/h
This tent is suitable for
Festivals
Rental
Anniversary parties
Temporary storage
Fairs
Sports events
Garden parties
Pagoda
12 year warranty on parts supply
Grizzly Outdoor guarantees that you can still buy parts for your party tent 12 years after purchase. So no problem if you have unexpected damage or lose a part. Your Grizzly Outdoor offers you a tent for life.